Unvanquished: Ishi's Story
New 2023 Release!
All color printing about the life of Ishi in San Francisco. 354 pages, 17 chapters. Paper. Perfect bound.
6" x 9"
 152 illustrations.
Price: $26.95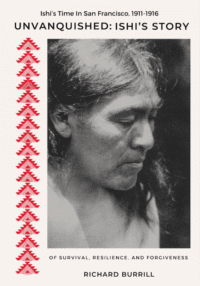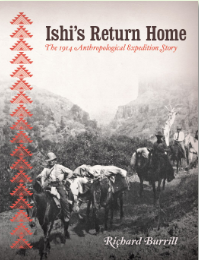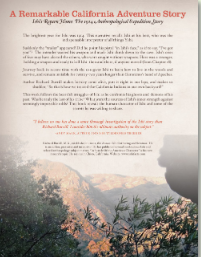 The story begins in San Francisco with Ishi and Professor Alfred L. Kroeber. The Yana interpreter Sam Batwee had departed and mysteriously disappeared in early October 1911. Ishi's health, day-to-day coping skills, and acquisition of English are carefully followed during 1911, 1912, and 1913.
The brightest year for Ishi was 1914. The year included the remarkable anthropological expedition back to Ishi's ancestral territory with four of his new circle of friends: Alfred Kroeber, Thomas Waterman, Dr. Saxton Pope, and his son, Pope Junior. The struggle for Ishi was how he would deal with the ghosts and demons of his past, especially his tribe's latest nemesis in life, "One-Eyed Jack" Apperson. How would Ishi fare?
The anthropologists hope to learn how California Indians lived and survived in pre-contact times. But finally, we learn more of the ordeals of California's Indigenous during the protohistoric time (when the white man arrived and what happened then).
On the evening of May 13, 1914, Ishi and his friends departed from the massive Oakland Mole railroad station on Southern Pacific's Cascade Limited overnight passenger train.
Their destination is Vina, in Tehama County, California, located 114 miles north of Sacramento.
Ishi becomes the lead guide for a trip into the rugged and remote Yahi foothill country. They experience, in all, 19 days of adventure, turmoil, challenges, discoveries, and some resolution. The group remains in the foothill country until the evening of May 30, 1914, when the sleeping volcano, Lassen Peak, awakens and starts erupting!
Have you ever dreamt of an adventure you could have taken in history? Imagine yourself returning in time with Ishi and journeying to his places of hiding, his former Yahi village sites, storage cave, and more.
Price: $49.95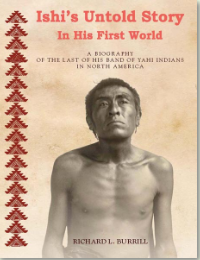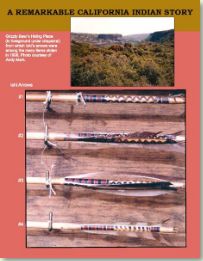 Carefully researched, the book's audience is the general public as well as Ishi aficionados. If you have never taken the time to read about the famous California Indian Ishi, who lived essentially an aboriginal existence and was in hiding from the time he was born in about 1854 to 1908 in the foothills of northeastern California, I invite you to explore this opportunity. What was this man's past? And what will be his future?
The 1908 setting of the story is on Upper Deer Creek, and the Yahi's last camp is discovered, ransacked, and Ishi's band dispersed. Will Ishi find his sister and Elder Uncle again? Upon the death of Ishi's mother, Ishi finds himself alone, the last speaker of his culture. Will he find allies with whom he can build a new life?
Ishi apparently finds other fugitive Indians hiding in the canyons who seek his help to cure their group members who have been recently poisoned by a man named Graham. When Ishi has too many of his patients die, according to the Old Ways, he is banished, or he will be killed.
What happens to Ishi when arrested and put in the "Big House," the Butte County jail in Oroville?
We flashback to when Ishi departs by WP train from Oroville for San Francisco to the circumstances of Ishi's birth. What were the Yahi/Yana's origins and cultural ways in pre-contact California? Who were Ishi's mother and father?
The book is 304 pages, with 12 maps and over 300 photos/drawings.
*Limited Printing*
Availability: April 29, 2011, at Ishi Gathering and Seminar in Oroville and from Lyon Books in Chico / May 25, 2011, at 7 PM - Book Signing. October 28-29, 2011, at California Indian Conference (Chico)
Price: $75.00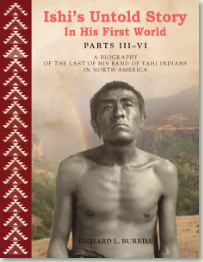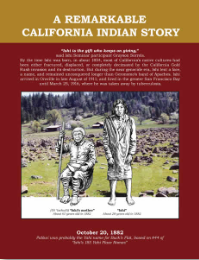 PART III. THE CALIFORNIA INTO WHICH ISHI WAS BORN
PART IV. ISHI'S YOUTH, AGES ONE TO THIRTEEN YEARS, 1854-1867
PART V. THE INDIANS' MURDER OF HARMON AUGUSTUS GOOD
PART VI. ISHI'S ADULT YEARS DURING THE LONG CONCEALMENT, 1870-1908
This work begins with Ishi's parents' generation, details Ishi's birth (in about 1854), his youth, his coming of age, and most of his adult life, up to November 6, 1908, when Grizzly Bear's Hiding Place was discovered, sacked, the encampment's last four residents dispersed, and the Yahi's long concealment abruptly ended.
This book stands alone from Ishi's Untold Story In His First World: A Biography Of The Last Of His Band Of Yahi Indians In North America, PARTS I & II, which were separately introduced in 2011.
Price: $75.00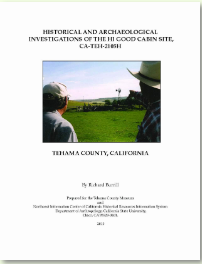 Entire report available for download in PDF format.
Includes Earliest Published Accounts and
Historical Background About Indian Adversary
Harmon A. Good
Price: Free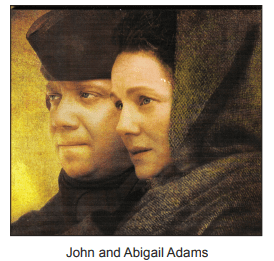 R. Burrill Selected Bibliography
Richard Burrill's revised and updated Bibliography
 for raising the bar in American cultural literacy,
as we approach 250 years since Independence,
July 4, 2026. All good suggestions will be applied.
Price: Free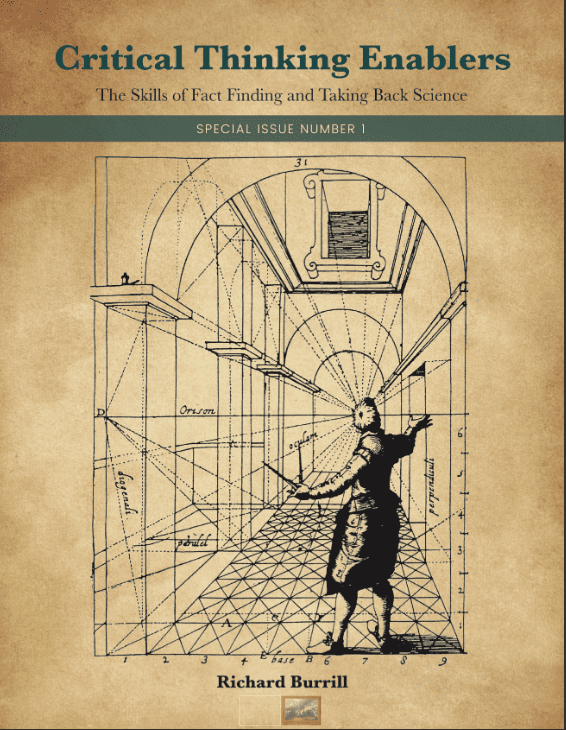 Critical Thinking Enablers
This Resource Book Teaches the Use of Reason.
The Skills of Fact Finding and Taking Back Science.
How the Scientific Method Process is Easy to Understand.
The invaluable tool for testing purported facts IS science.
Price: $20.00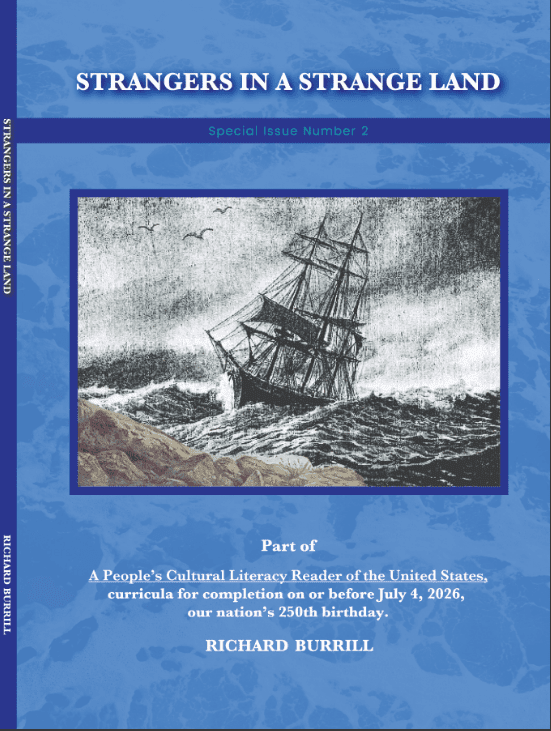 Strangers in a Strange Land
Author Richard Burrill shares eight remarkable stories of discovery and of loss.
Samuel de Champlain in 1605 Experienced the First World of the Patuxets at Plymouth
The Pequot War, 1636- 1637
Metacomet's /King Philip's War, 1675-1676
New France's Historic Canoe Route to the Ho-Chunk, the Legendary "People of the Sea"
The mother who found her long lost child, Regina Leininger, in 1763
Shipwrecked 1818, Strangers in a Strange World
Price: $20.00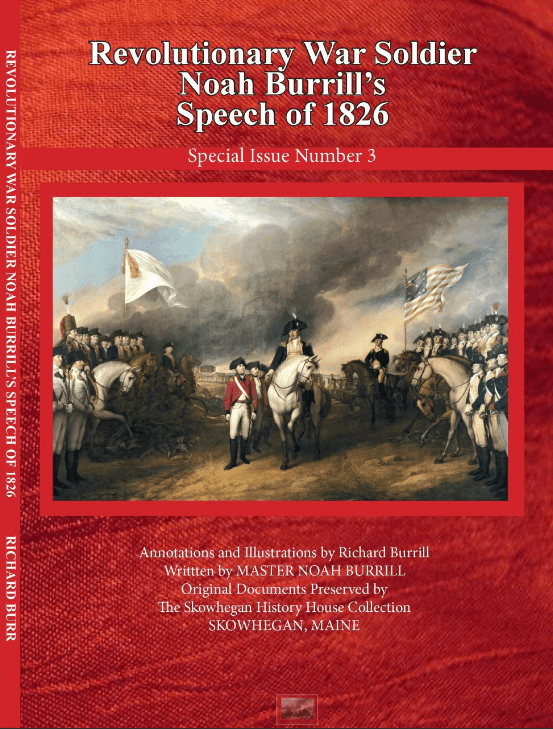 Revolutionary War Soldier
Noah Burrill's Speech of 1826
Revolutionary War Soldier Noah Burrill Served Under General George Washington,
And Gave His Remarkable Speech on July 4, 1626
Price: $20.00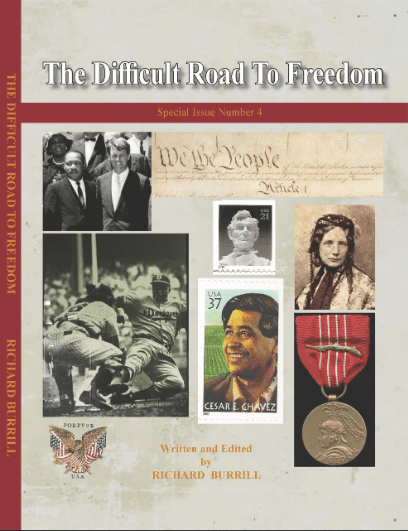 The Difficult Road to Freedom
A Layman's Guide to American Civil Liberties
Actor Fred MaGee on live stage taught me the truest things about Alvin Coffey.
This book is dedicated to William Lloyd Garrison, without whom there may not have been an Abolitionist Movement.
Includes the Charters of Freedom.
Includes, with permission, "The Price of My Freedom," the remarkable true story
by Thanh Thi Uong Depper.
"The Difficult Road to Freedom" was inspired by the DVD "The Abolitionists", broadcast on PBS' American Experience, masterfully written and produced by videographer Rob Rapley.
Out of Stock / This Book Deserves To Be Reprinted (Interested parties, please contact Richard Burrill - ASAP).
Price: Out of Stock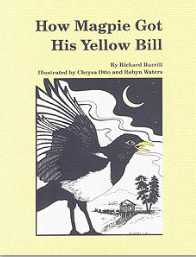 How Magpie Got His Yellow Bill
Welcome to a magical world where the people, the birds, and animals all spoke a common language in California at Culloma (Coloma), just before the 1848 gold discovery days. It's the story of a sour-tempered magpie, Ah-tahtee, and about learning healthful character values for living in peace.
Raised with anger and without purpose (place), Ah-tahtee learned only to fight back whenever things didn't go his way. As the story unfolds, Magpie, like Trickster Coyote, becomes a teacher of what not to do.
The adage, told by storyteller Grizzly Bear Heart, rings true. Attitude is the mind's paintbrush. It colors every situation. Generosity (being a giver) rather than greediness (being a taker) becomes the most important value taught. This is a family story, joined with traditional California Indian songs to cherish and to learn from for many years to come.
Price: $9.50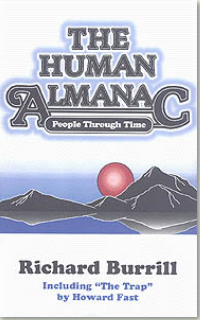 THE HUMAN ALMANAC: People Through Time
The Human Almanac blows the mind because it is about us! It is a unique compendium of American popular culture and subversive news, including things we learned about American history that are not true.
Reflections Of Humankind:
Mankind, Millenniums, and Mars
Searching for Humankind:
Who Am I? Who Made Me? What Is the Substance of Humanness?
Native Americans:
Whispering Words and Wounded Knee
Languaging Of Humankind:
Signs, Symbols, And Swastikas
Racism Of Humankind:
Sticks and Stones May Break My Bones
Sexuality of Humankind:
Superiority, Sexism, and Sex
Altered States of Humankind:
Magic, Mysticism, and Metaphysics
Understanding Humankind:
Sacred Cows, Vietnam Tigers, and American Elephants
Price: $10.95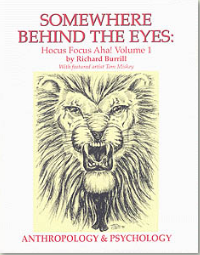 47 Fun-To-Find SURPRISE PICTURES
Dare to think for yourself!
This educational ambiguous art collection teaches how to think differently in non-routine ways by using visual art puzzles. An invaluable image collection to stimulate the imagination and expand the awareness of all who view them.
Such ambiguous figures are some of the most instructive and interesting materials in the field of perceptual psychology that have been proposed so far.
Professor Robert W. Leeper
University of Oregon, Eugene
By taking The Hocus Focus Aha! Test, you'll learn how to think differently, perhaps, and you'll have a whole repertoire of tricks sure to dazzle friends and family alike.
Price: $14.95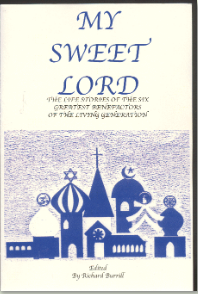 About This Book:
Includes what many consider to be some of the greatest, most engaging, and sacred biographies ever told, My Sweet Lord adventures towards a broader faith. Imagine what this world would be if its citizens studied the traditions that are outside their own homelands.
Presented for the 21st-century reader are the life adventures of Rama, Krsna (Krishna), Zoroaster, Siddhartha Gautama (The Buddha), Jesus, and Prophet Muhammad. They are the epics that explain mysteries hidden since the beginning of time.
You may have met someone in your life who has endured real tragedies in their lifetime, yet they are still happy. And if you ask them, "How can you feel that way today?" They invariably respond by saying, "I have my faith for comfort." This book affords you the opportunity to explore the wisdom of several faiths and to deepen your own faith if you so choose.
Quotes To Ponder:
"If the thing is well said, the man is a genius. And if it is unusually well said, then God said it."
- Søren Kierkegaard
I don't find it any more surprising to be born lots of times than to be born once.
- Voltaire
"A person's reach should exceed his grasp, or else what's heaven for?"
- Robert Browning
"Truth is one; the sages call it by different names."
- Rig Veda 1:64.46.
Price: $19.95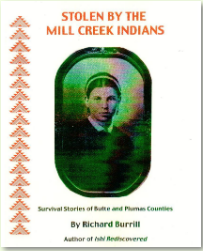 About This Book:
Richard Burrill's book weaves together Butte County's original, a Thankful Lewis Carson true story, Captured By The Mill Creek Indians (1915), with a lesser known 'capture' story of Mariah Bill (Plumas County). Mariah's abduction, interestingly enough, involved Indians kidnapping Indians! It is claimed that Thankful Lewis and Mariah Bill were the only two people who were ever captured by and escaped from the mysterious Mill Creek Indians.
Out of Stock / Available in Libraries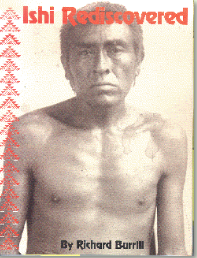 The first in this historic series rediscovers ISHI, a remarkable young Yana/Yahi Indian based on the oral histories of Tehama County, California, stockmen, their families, and others. ISHI's story of his wanderings, an unbelievable overview of the life and adventures of this remarkable man, culminates sadly with his early death in 1916.
Out of Stock / Available in Libraries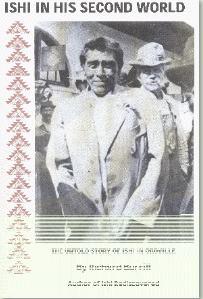 The second book in this historical series by author Richard Burrill begins on August 28, 1911, and finds the refugee, ISHI, in Oroville, California. His second-world experiences, told in detail, span eight frightening days and seven nights, beginning with his arrival alone, hungry and prepared for his own death at the historic Charles Ward Slaughterhouse.
Out of Stock / Available in Libraries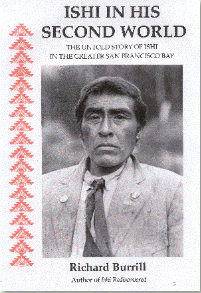 The third book in this historical series by author Richard Burrill takes readers to San Francisco for another untold chapter in the life of this Stone Age Indian as he experienced the City by the Bay for four unbelievable history-making months in 1911. (September 4 - December 31, 1911).
Out of Stock / Available in Libraries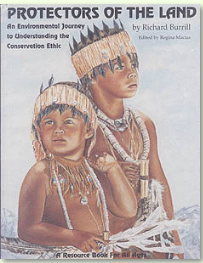 Sacred Power: Prepare Your Heart
The Bear Doctor: Understand The Interdependence Of All Things
What Is Habitat? Understand Our Home Is In Trouble
Sacred Cycles: Understand The Will Behind All Of Nature
Fire Maker: Understand How To Use Energy With Respect
Yosemite's Inch Word Rock: Understand How To Walk In Balance
Words Of Wisdom by California Indian Elders
California Geography
Environmental Activities
Cooperative Games and Songs
Out of Stock / Available in Libraries